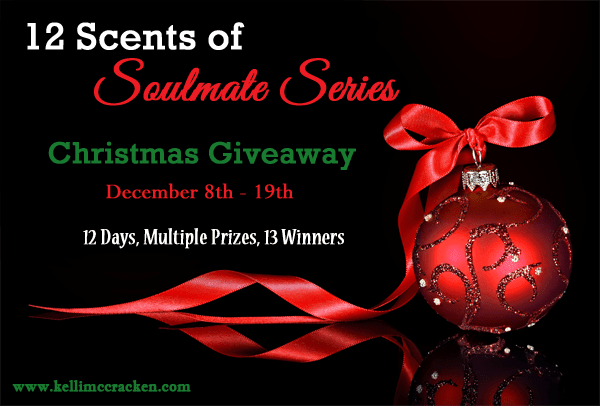 Christmas is a magical time of year. The multicolored lights, the crisp scent of peppermint, and the wonder in a child's eyes…it's unlike any other day I know. This holiday brings back many special memories for me, and it's one time of year I block out all the negativity in the world and do my best to give back.
As a child, one of my favorite parts of Christmas was singing carols and my favorite carol—The 12 Days of Christmas. Even though I'm older now, I still enjoy singing carols, especially this one, and it's because of this song that I came up with the idea for a special holiday giveaway: The 12 Scents of Soulmate Series. Ready to learn more? Keep reading…
So what exactly is happening during the 12 Scents of Soulmate Series giveaway? For the next 12 days, I'll be doing a daily drawing through Random.org, for one of the 12 wax scents I've chosen to represent the series. For example:
Cinnamon for Dylan's spicy scent
Sandalwood for Heaven
Illusion for Layne. (This smells AMAZING)
Honeysuckle
There will be 8 other scents, and each day I'll post which scent I'm giving away, as well as how it relates to the series. In addition to the scents, there will be an additional prize for each winner. Prizes will change each day. Here are a few of the items:
eBooks
Gift cards
author swag
limited edition Soulmate Series prizes
There will also be a Grand Prize for those who use the Rafflecopter entry options posted on the widget. Certain options, such as sharing posts & tweeting about the giveaway, can be done each day, so make sure you come back every day to play.
The Grand Prize will include:
1 Wax Warmer
Soulmate Series Scents Set (these will be identical to the scents from the daily giveaway)
Author Swag Pack
Soulmate Series Book of Choice (if you have all 4 books, I will award a different prize with verifcation)
Secret Layne Perry Autographed Item
HOW TO PLAY
Early Entry Day : Dec 7th
Comment on this blog post with your favorite Christmas Carol
Enter through the Rafflecopter widget below.
Go to my Facebook page, like the post, and comment with done.
Dec 8th – 19th
1) Visit my blog each day to see which scent I'm giving away.
2) Share the 'scent of the day' post on your social media site of choice. (Post the URL in the appropriate entry option listed on the Rafflecopter Widget)
3) Comment on the blog post with 'done'
4) Get additional entries by visiting the Rafflecopter widget below.
The first giveaway starts on Monday, December 8th with the final giveaway on Friday, December 19th. The grand prize winner will be announced on my birthday, Saturday, December 20th, 2015. Good luck to all who enter.
Hugs & Love <3
~Kelli