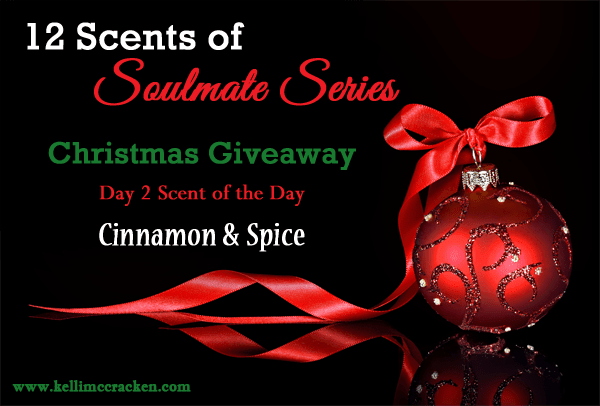 Welcome to the 12 Scents of Soulmate Series
Day 2 Giveaway
Today's Scent of the Day is: Cinnamon & Spice
Today's Gift of the Day: Autographed Guitar Pick from Dylan McBride
***Congratulations to: Samantha Lundergn
,

 who won Day 1's prize of Honey Nectar and an eBook of What the Heart Wants***

Those of you who've read the series know that Dylan McBride is a super sexy rock star who fits the ol' 'tall, dark, and handsome' description. Of course, Mr. McBride is brooding, moody, and has a tad bit of a jealous streak when it comes to Heaven. He has his reasons for this, and if you've read the series, you know the mystery behind Dylan is still coming to light.

In the series, Heaven refers to his spicy and sometimes cinnamon scent
---

"Is something wrong?" His breath caressed her cheek with cinnamon sweetness.

"No…I'm fine, thanks," she whispered, forcing her eyes back to the bridal party.

She couldn't look at him. Just being this close had her body reacting to the sound of his voice. Her legs trembled. Breathing deepened. Heart raced.

Nope. It wasn't happening.

Getting involved with a rock star…

Heaven Lewis—What the Heart Wants: Soulmate #1

---

A low rumble resonated from his chest. The warmth of his hands left her hips, traveling downward until he cupped her bottom and pulled her against him. Sweet cinnamon filled her mouth as his tongue slipped past her lips. The world could end at this very moment and she wouldn't know. Wouldn't care. Wouldn't ask for a better way to go.

Heaven Lewis—What the Heart Needs: Soulmate #2

---
Now it's your turn to share. For your chance to win the cinnamon & spice scented wax and guitar pick:
Comment below and tell me about something you like that has cinnamon. (Can be something edible such as candy or something scented, like a candle.)
Share this post on your social media outlet of choice via Share box at the bottom of the post. Don't forget to paste your link into the Rafflecopter widget below (4th option)
Enter via any option on the Rafflecopter widget
Like the Pinned post on my Facebook page and comment with 'done'
All entries via Rafflecopter will be for the Grand Prize which includes:
1 Wax Warmer
Soulmate Series Scents Set (these will be identical to the scents from the daily giveaway)
Author Swag Pack
Soulmate Series Book of Choice (if you have all 4 books, I will award a different prize with verifcation)
Secret Layne Perry Autographed Item
Be sure to tell your friends about the giveaway. I'll be announcing today's winner at 11pm EST on Facebook and on tomorrow's blog post.