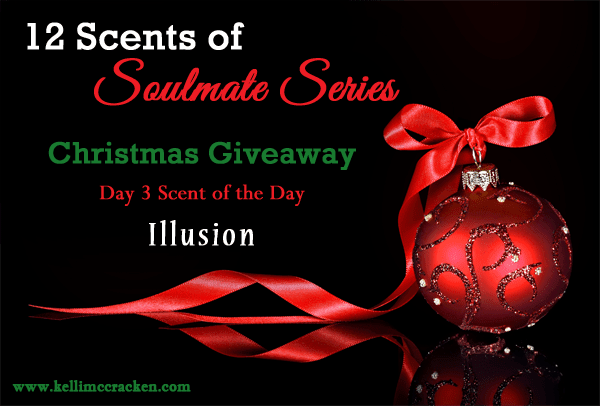 Welcome to the 12 Scents of Soulmate Series
Day 3 Giveaway
Today's Scent of the Day is: Illusion
Today's Gift of the Day: Autographed Layne Perry Drum Sticks
***Congratulations to: Brenda Howe
,

 who won Day 2's prize of Cinnamon & Spice and an autographed Dylan McBride Guitar Pick***

You can love him or hate him but there's one thing you can't deny. Layne Perry's passion. My bad boy of Soulmate Series first stepped on scene as an arrogant, womanizing, jerk whose main goal in life was to sleep with any and every woman he met. As the series unfolds, more information comes to light about Mr. Perry and the reader gets a glimpse as to why this character acts the way he does.
---

Was the rehearsal over yet, because his weekend plans just got a lot more interesting. Faith was a little vixen. He could see it in the way her eyes raked him up and down. The way she kept touching her hips every time his eyes left hers. Even the way she tossed her hair screamed 'do me'.

Yeah, he knew all the signs. You don't sleep with four chicks in one night by making the wrong assumptions. A knack for reading women paid off when you were a million miles from home with a suitcase, drum sticks, and enough testosterone to put Viagra out of business. If only he could bottle it.

Layne Perry—What the Heart Wants: Soulmate #1

---
Layne's scent has changed a little through the series. His natural scent is citrus and amber, but his cologne varies. I love it when a man wears cologne. It smells amazing, as does today's scent: Illusion
Now it's your turn to share. For your chance to win the Illusion scented wax and drum sticks:
Comment below and tell me your favorite cologne for a man
Share this post on your social media outlet of choice via Share box at the bottom of the post. Don't forget to paste your link into the Rafflecopter widget below (4th option)
Enter via any option on the Rafflecopter widget
Like the Pinned post on my Facebook page and comment with one thing you like/love/hate about Mr. Perry. (this step is important because this is where I pick the daily winners.)
All entries via Rafflecopter will be for the Grand Prize which includes:
1 Wax Warmer
Soulmate Series Scents Set (these will be identical to the scents from the daily giveaway)
Author Swag Pack
Soulmate Series Book of Choice (if you have all 4 books, I will award a different prize with verifcation)
Secret Layne Perry Autographed Item
Be sure to tell your friends about the giveaway. I'll be announcing today's winner at 11pm EST on Facebook and on tomorrow's blog post.