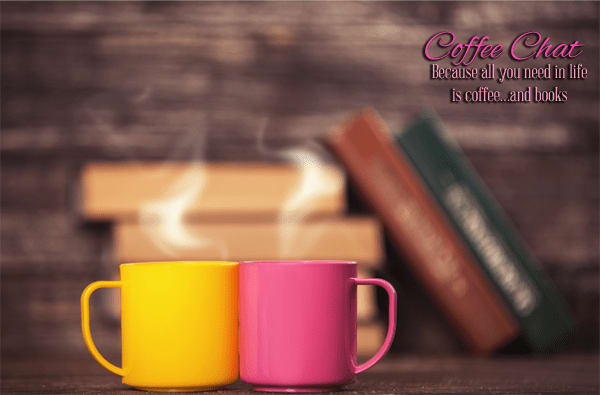 Welcome to Coffee Chat
It's that time again. Tracy and I are bringing you the second post in our Coffee Chat series. We had such a great time doing this interview that we got a little carried away.
As I wrote this post, I realized it was over 1k words, so I decided to split it up and serve it to you in smaller portions. You know how I love to do that, right? It's how Soulmate 3 & 4 came to life. Otherwise, I probably would have written the next War and Peace sized novel. #imaybeexaggerating
Okay, let's get this party rolling. Got your favorite cup of joe in hand? We do too. Personally, I think mine needs a shot of Bailey's. lol
Series Post 2
Tracy: Today, I'd like to talk to you about Longing for You, one of the sexiest novels you've written. How is this book different from its predecessor, Only in Time?
Kelli: It's different in many ways. Not only is it a full-length novel, but Longing for You is also quite a bit steamier than its sister story, Only in Time. Both books are concurrent. They share some of the same scenes, but there are more details in Longing for You. Its storyline follows Theo McCabe and Cassie Clarke and consists of the things that happen 'off-scene' in Only in Time, which is more Jonah McCabe and Ally Jacob's story.
Tracy: I noticed this is a new series. Why did you not continue in the Mystique Antique Series instead of doing a spin-off?
Kelli: Mystique Antiques is a series of novella-length stories. It's also a crossover series. What I mean by this is that each book in the series is written by a different author. Currently, there are three books in Mystique Antiques, which originated from my fellow author and friend, Amber Scott.
Each of us wanted to expand the stories we wrote for this series, so we decided to incorporate book ideas we already had. For example, our friend and fellow author, Elena Gray, contributed her story, Fairy Misguided, to the Mystique Antiques Series. This book is more humorous than mine or Amber's. We also get a glimpse a pivotal character, Mrs. Haverty, who is a 'drunken fairy godmother' of a series with the same name.
My Touched by Magic Series will focus on the current characters and their friends and family. For instance, in Longing for You, you meet Cassie's sister, Cori Clarke, but she will get her own book in the Touched by Magic Series.
Tracy: How many books do you foresee in this series?
Kelli: I'd like to write seven additional stories, all standalone novels but still connected through their friends and family we see in Only in Time and Longing for You. As of now, Twila will be appearing in these stories too.
Tracy: Do you think you could ever co-write a book with another author?
Kelli: Possibly. Co-authoring comes down to a level of trust, respect, and cooperation between the authors. Agreements have to be reached well in advance. Bringing two unique voices together is a challenge sometimes.
Currently, there is only one author I've considered co-authoring with. Elena Gray. And there is one unpublished writer who I think would also be a good fit. Who knows what the future holds.
Tracy: You have so many characters running around in your head. How do you keep them separated? I imagine Theo and Cassie to be strong characters, but I think the same about Layne and Faith.
Kelli: Each of my characters have their own unique personality, and each series is so different, I haven't had any difficulties keeping them separate.
When I write, the characters take over. It's truly an out-of-body experience. I'll sit down and begin writing. When I finish, I read over what I've written and it's amazing sometimes. I don't remember writing most of it, so it's often a surprise.
Tracy: So this book, as well as your other books, are based around musicians. Is music an important part of your writing since it seems to appear in most of your work?
Kelli: Absolutely. Music plays a tremendous role in my writing. When I listen to a song, a scene plays before me like a movie. I draw my inspiration from it. Even when I get writer's block, I can listen to music and get unblocked.
Just recently, I had a pivotal plot development come to me for Soulmate Series, something I've struggled to figure out for months. I was listening to Papa Roach's Face Everything and Rise when an epiphany hit me like an erratic bolt of lightning. I was astounded.
Music is part of the reason I began writing. I used to sing in choir class and I was also in band as a kid. I've even written a couple of songs. I love music as much as I love writing.
Tracy: Maybe one day you will sing a song in your vlog. ?
Kelli: ?
Please join us next week for the second half of this story, and if you missed the first post in this series, you can find it here. Have any comments or questions you'd like to see answered in a Coffee Chat post? Leave them below in the comments. I love hearing from readers like you. <3
Much love and hugs
Kelli~