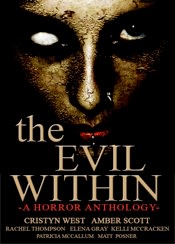 So it's official. I am a published author. Woohoo!
Okay, it's not What the Heart Wants, but The Evil Within features one of my stories in this creepy horror anthology. And it's just in time for Halloween. It can't get any better than that, right? #right
There are 9, that's right, 9 chilling tales in this book. I've read them and let me tell you, you'll want to leave the lights on. Joining me in this book is Cristyn West, Amber Scott, Elena Gray, Rachel Thompson, Patricia Callum, and Matt Posner.
Did you know that you can get The Evil Within for only 99 cents? Yep. As a current promotion with the Bestseller for a Day program, sponsored by The Indie Book Collective, you can puchase Evil as a bonus buy with Cristyn West's bestseller for a day, All Hallow's Eve.
It gets even better. Besides scoring these two books for 99 cents, you can also puchase three other books for such an amazing low price. And if you visit the Bestseller for a Day website and sign up for the newsletter, you can get entries into the kindle giveaway that the wonderful Cristyn West is giving away.
5 books at 99 cents, a chance to win a free kindle, and Halloween thrills? What are you waiting for. Go load up.
And to celebrate this happy occasion, and Halloween on Monday, let me give you my Theme Song Thursday pick this week. One of my favorite songs, though it is an oldie, it is still a goodie. #justlikeme. Enjoy!
[youtube]
http://www.youtube.com/watch?v=BvsMPOfblfg&ob=av2e
[/youtube]