Welcome to the Cover Reveal
Wow. Can you believe we made it to this point? The first three books in the series have had their new cover reveals. Now we're down to book 4. Next week will be the conclusion of the new covers when I reveal the one for Soulmate Book 5. Not only that, I'll finally be able to call the book by it's title.
Before we get started, I wanted you to know that What the Heart Desires is 99 cents on Amazon today and tomorrow (1/31/17 – 2/1/17).
As with the last three reveals, I'm going to show you the previous cover. This one didn't change much from the original cover. I added a few orbs, and voila. I had a lot of reader feedback before this book released due to this cover. Many readers loved that Layne was on it, but…I also lost a few readers because of it. As much as I hated that, I know that I can't please everyone.
I used to stress myself over this, but not anymore. I know I have readers who love everything I write. I also have readers who only like certain books. I'm perfectly fine with either scenario. To each his own. I've grown comfortable with my writing.
"Confidence is not 'they will like me'. Confidence instead is 'I'll be fine if they don't'." ― Christina Grimmie
I don't write for the market. Never really have. I write for my characters—to tell the story they want me to tell. I write for myself—to declutter my mind and rid it of the 'voices'. I also write for my super fans, those who love everything I pen, no matter the context. They simply read my work to be entertained. So no more stressing over whether someone loves or hates my book. I've been a lot happier since adopting this mindset.
Okay, I've rambled long enough. Here is the two previous covers…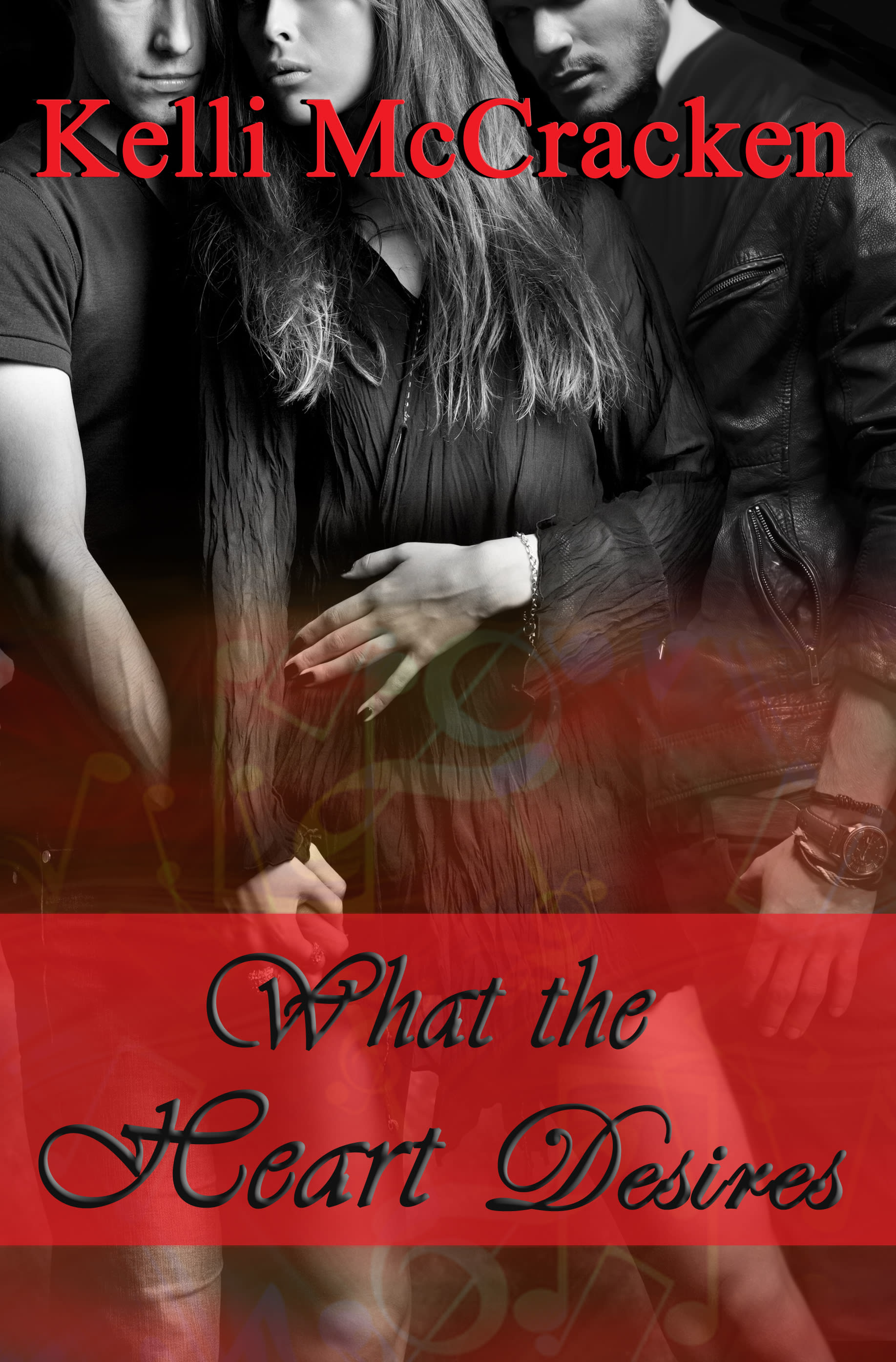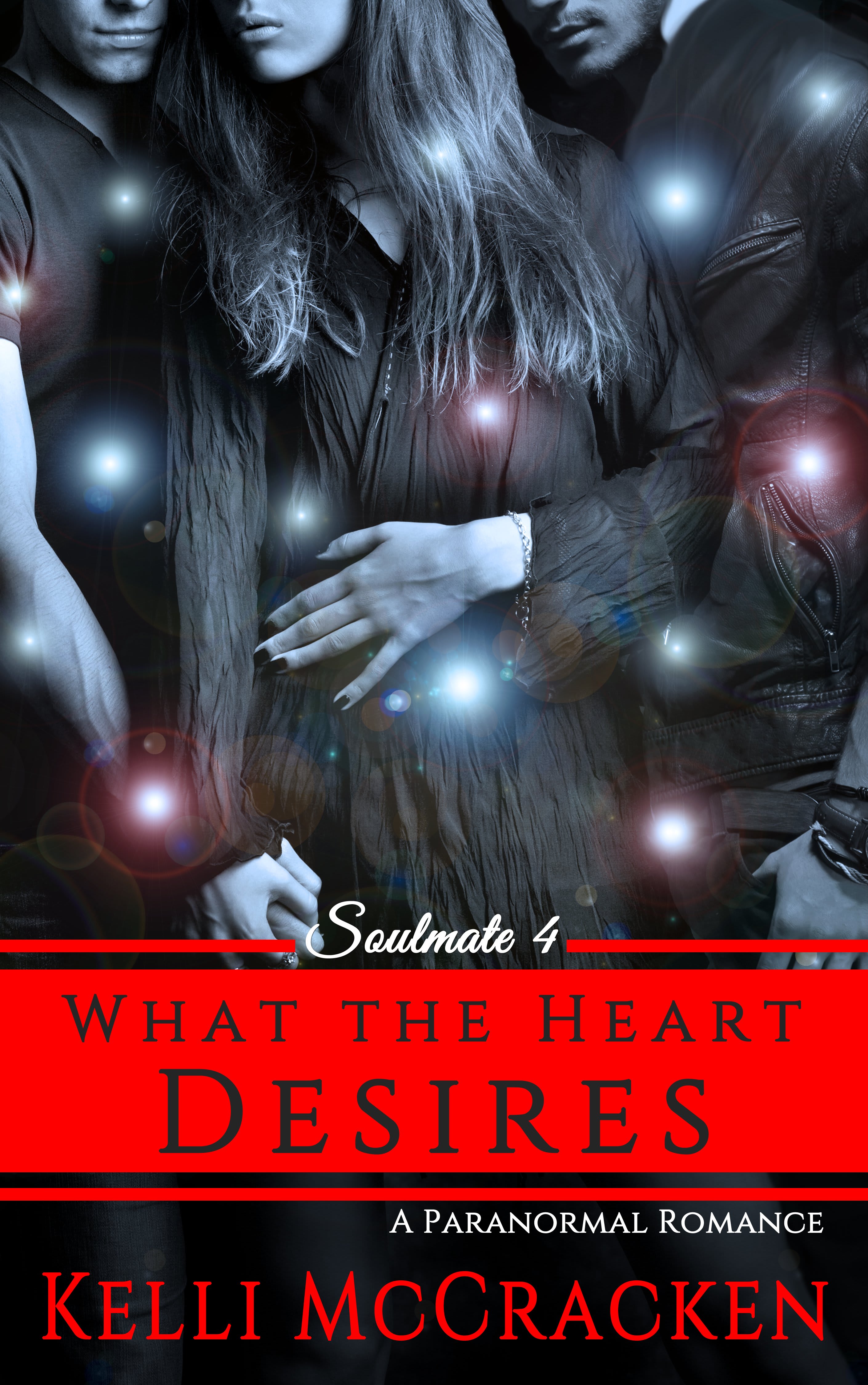 And now, the cover reveal for What the Heart Desire: Soulmate Series 4…
New Cover Reveal
Title: What the Heart Desires
Author: Kelli McCracken
Add to Goodreads
Blurb
A seed of doubt. A blind devotion. A soul divided.
Dylan McBride is desperate to protect his wife and child from The Fallen. He'll stop at nothing to keep them safe, even if it means killing his father. With a devastating secret on the verge of destroying his life with Heaven, Dylan hides the truth from his soulmate. His deceit isn't the only threat to his relationship. So is the growing connection between Heaven and her Keeper.
Layne is gaining strength, increasing the powerful fire within him. The more time he and Heaven share, the easier it is to control his Keeper abilities. Harnessing his emotions is a different story. As if the affinity bond didn't intensify the link between them, an emerging secret forces him to face the truth. He's in Heaven's life for more than her protection.
Among the death threats and birth of her child, Heaven struggles to keep peace between her soulmate and Keeper. Dylan's behavior grows darker by the day, but the bond between her and Layne deepens. He's willing to sacrifice his life for her. Yet a turn of events has her risking everything for him. When more lies are exposed, she'll be left with one choice—deny the truth or surrender to her heart's desire.
What the Heart Desires is the fourth installment in the Soulmate Series. If you like tantalizing romances with suspense, soulmates, and supernatural twists, you'll love Kelli McCracken's compelling take on love, fate, and destiny.
Buy this sensual romance today!
Amazon Universal Buy Link
http://smarturl.it/WTHD_2017
.99

JANUARY 31st – FEBRUARY 1st
After reading What the Heart Takes, Book Three in the Soulmate Series, I honestly didn't think that Kelli could make these books any better. That book just amazed me. Well, color me wrong. Kelli blew my mind with this book. Amazing, Incredible and simply Fantastic. I cannot begin to tell you how much I truly loved this book to give it justice.
This book starts where What the Heart Takes left off. In this book there is so much happening with not only our main three characters of Layne, Heaven and Dylan. But we are introduced to new and old characters a like.
We learn more of Heaven and Layne's true connection and not what they have been led to believe. Hope and Faith reveal and are given revelations that we didn't know before. The road is not easy for any of our favorite characters. Let's not forget that Heaven is about ready to give birth to her and Dylan's first child.
Many twists and turns keep you engrossed and enthralled in this world that Kelli has created for us. She pulls us in once again and we better buckle up because the road ahead is full of shocks, surprises, and she lights us on fire with the heat and passion between her characters.
This is one book I will definitely read over and over again and order the hard copy of it to put in my library permanently along with the rest of this series. I hope Kelli never ends this series as the characters have become part of my family. A true Author is able to pull you in and weave their story around you and make it part of you. Kelli is one of those Authors.
I rate this book highly and unfortunately I can only give it five starts because if I could I would give it more and more. This is a book that needs to be added to your TBR list immediately. If you haven't read the books in the series then please read them and enjoy this series as I have. I can't wait to see where Kelli takes us next I know one thing for sure What my Heart Desires is more Soulmate Series and Kelli McCracken.
About the Author
Kelli McCracken is a paranormal and contemporary romance author from Northeast Kentucky. She has authored seven book with many more in the works. When she's not listening to the crazy character conversations in her head, Kelli enjoys connecting with readers and chatting about books, characters, and all things fiction. 
"Time is the one thing in life that we never get back. Live life to the fullest with no regrets. Seconds chances are rare."

Follow Kelli on:
–Facebook at www.Facebook.com/AuthorKelliMcCracken
–Twitter at www.Twitter.com/Kelli_McCracken


Join Kelli's Fan Group:
—www.facebook.com/groups/372277369567595/
Hosted by Spunky N Sassy
Hot cover, right?
I hope you've enjoyed seeing these covers. If so, comment below and tell me, out of the 4 books I've shared, which cover is your favorite?
Hugs and love y'all. <3