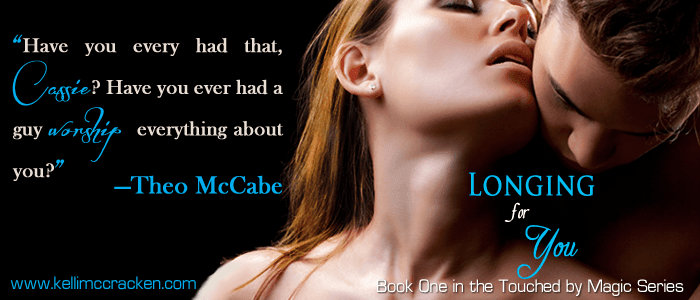 With the release of Longing for You looming, and the influx of positive feedback from beta readers, my excitement to share this novel increases. Most authors grow with each book. Longing for You will be my seventh release, and I feel as though my writing isn't the only thing that's matured. I have matured as a writer. I can't wait to present my latest book baby to the world on September 18th. In fact, I've decided to gift a lucky winner with an advance copy.
Haven't heard about my upcoming release? Allow me the honor of introducing you to Theo McCabe and Cassie Clarke's story.
Category: Romance – Contemporary
Word Count: Approximately 77,000
Maturity Rating: Adult
Synopsis:
"Have you ever had that, Cassie? Have you ever had a guy worship everything about you?"
One wicked argument and six years later, Theo McCabe is back in hell. Savannah, Georgia. If not for his brother, Jonah, he wouldn't be in his hometown…or recording his band's first album.
He sure as shit wouldn't have run into Cassie Clarke.
Determined to have what he's always wanted, he sets out on a mission to right a wrong committed against his brother. Doing so will require Cassie's help, and if she agrees, his plan will be in motion—his plan to seduce her.
He refuses to leave town until she desires him as much as he desires her. The only way to accomplish his goal is to prove he isn't the bad boy she remembers. Yet the more they're together, the harder it is to stick to his plan.
There's a reason he's always wanted Cassie. She affects his body like no other woman, but this time, she's affecting his heart too. Making her want him will be a challenge.
Leaving her once he did would be hell.
Giveaway Details:
I will gift an advance copy of Longing for You to one lucky winner (perhaps more if I get a lot of entries).
Winner must be willing to provide me with their Kindle email address (these addresses end with @kindle.com). I will provide detailed instructions on how to find this information in the winner announcement email.
The contest runs from today, August 28th, 2015 until Midnight EST on September 17th, 2015.
There are multiple ways to enter via the Rafflecopter widget below.
Any questions about this giveaway can be left in the comments below or sent to my email via the email icon at the top of this site.